From Pharmacy Practice News – October 22, 2019
Hospital pharmacy leaders have been traditionally viewed as partners with medical staff in the stewardship of health systems' drug budget management. Historically, we have successfully employed tactics such as closed formularies, generic and therapeutic substitution, automatic stop orders, IV to oral conversion, and participation in group purchasing organizations (GPOs), or used individual contracts to better manage the growth in drug spending.
Despite these efforts, the average drug spend across US hospital systems increased 18.5% between fiscal year 2015 and 2017.1 This pattern continues today, prompting pharmacy leaders to look for new ways to control costs. Organizations are exploring multiple tactics to move beyond the "low-hanging" items, including:
implementing clinical pathways, which are designed to reduce variability in care and possibly to steer drug selection using some cost–benefit measure (when options include choices of equal efficacy but differing cost)2;
designing indication-based clinical initiatives rather than drug class–driven therapeutic substitution3,4; and
adopting biosimilar agents as replacements for originator biologic drugs.
Encouraging biosimilar adoption is particularly interesting for pharmacy leaders because this decision is within the purview of pharmacy department decision making, and there is a related precedent in the historical adoption and widespread use of generic drugs. The opportunity to bend the drug spending cost curve is also significant: Historically, biosimilar products enter the market at 15% to 30% lower cost than the corresponding reference product.5
Biologics and Biosimilars: Impact on Hospital Pharmacy Budgets
A biosimilar is defined by the FDA as a biologic product (such as vaccines, gene therapies, monoclonal antibodies, and proteins that are not chemically synthesized polypeptides) that is "highly similar" to the reference product with "no clinically meaningful differences" in safety and effectiveness and is available in the same dosage form, strength and route of administration.6 Biologic drugs are used to treat a wide variety of conditions, such as rheumatoid arthritis, irritable bowel syndrome, certain cancers, multiple sclerosis, and other serious diseases. Newly developed biologic drugs have resulted in substantial improvements in survival, morbidity and quality of life for patients with various cancers and autoimmune disorders.6

Despite this success, they are expensive, in terms of cost per dose and course of therapy, which can exceed tens of thousands of dollars.6 In a National Opinion Research Center (University of Chicago) report issued in January 2019, an analysis of 2017 data from two of the largest GPOs showed that 9 of the top 10 drugs, by spend, were biologics (Figure 1).1 Based on my oncology experience, freestanding cancer centers are even more profoundly affected by the use of biologics than the general membership of these 2 GPOs, with biologics often accounting for more than 80% of the total drug spend.
The extreme budgetary impact of biologics comes from 2 major factors: high acquisition cost and price inflation. According to the American Council on Science and Health, "Biologics provide relief for about two percent of America's population at the cost of about 40 percent of the money we, as a nation, spend on pharmaceuticals," which points to the effect of the high acquisition cost of these products relative to other drug spending.6 Second, biologic product prices are continuing to increase at a rate that outpaces nonbiologic drug inflation, which averaged 3% per year in the same period (Figure 2).1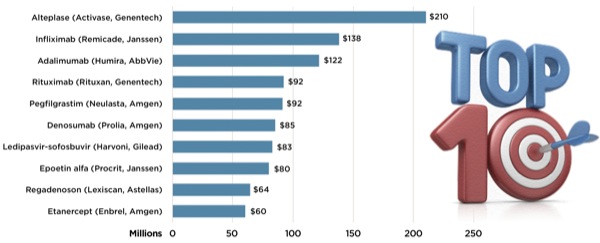 Figure 1. Calendar year 2017 top 10 drugs by spending (GPO data).


Figure 2. Percent change in GPO price per unit between 2015 and 2017 for drugs with the highest spending in 2017.
Given the intense cost pressures that biologic agents place on hospital pharmacy budgets, replacing reference biologics with biosimilar agents should be prioritized as a strategy to control the impact of increased use (from both new drugs and new approved indications) and acquisition cost. According to the Rand Corporation, adopting biosimilars could lead to a $44.2 billion reduction in direct spending on biologic drugs from 2014 to 2024, or about 4% of the total biologic spending over the same period, with a range of $13 billion to $66 billion.7
Despite potentially significant cost savings, it is extremely unlikely that a provider would unilaterally request the addition of a biosimilar to the formulary. Rather than waiting to be forced to adopt biosimilars in response to a decision by an insurance payor, organizations can seize this opportunity to build prescriber buy-in and encourage clinicians to adopt proactive protocols. Clinical pharmacists and their leaders have a unique opportunity to shepherd the adoption of biosimilars in their organizations because they are most frequently responsible for setting their system's pharmacy and therapeutics (P&T) committee agenda. To do this, leaders must first broadly educate the clinical team and then establish a framework for guiding a request for a biosimilar through the P&T process.
Identify Biosimilars Champions
Given that the number of biosimilars receiving approval by the FDA is increasing rapidly, now is the time to establish a cadre of experts. The first drug to be approved under the biosimilar approval pathway was filgrastim-sndz (Zarxio, Sandoz) in March 2015.8 Now, there are currently 23 approved biosimilar agents, with 18 of those in the past 24 months.8 Clinical pharmacists are the most likely candidates to become subject matter experts (SMEs) who provide the education on biosimilar products. Hospital leaders should seek volunteers or assign pharmacists responsibility for becoming organizational SMEs. Once identified, it is critical to offer opportunities to obtain additional expertise through continuing education programs and symposia. Additionally, if possible, participation in manufacturer-sponsored advisory panels should be explored as sources of more in-depth knowledge.
Share Knowledge With The Clinical Team
Education is a critical first step in the adoption of biosimilars. A National Comprehensive Cancer Network (NCCN) Trends survey found that provider knowledge of the science and regulation of biosimilar products was "sub-optimal," affirming the need for education.9
To drive informed buy-in from other pharmacists, physicians, and nurses, pharmacy SMEs will need first to focus on explaining how biosimilars are produced, approved, and the appropriate uses. Once this is mastered, they can then hold conversations about biosimilars' benefits, taking care to avoid solely concentrating on cost in discussions with providers and bringing in data on safety and efficacy.10 Here are key facts that can help open each of these 3 conversation starters with providers.
Biologic Processes Involved in Biologic and Biosimilar Production
To produce biosimilars, manufacturers reverse engineer the DNA sequence based on the primary protein of the reference drug, which is available in the public domain.9 The synthesized gene is then transfected into the selected host cells where transcriptional and translational mechanisms generate the core protein of the biosimilar.9 The degree to which the biosimilar's molecular structure matches the reference product can depend on the choice of host cell and the methods used to purify and stabilize the final product.10 Because biologics are produced within living systems, they are subject to 2 phenomena known as drift and evolution. Drift refers to the unintentional variation from lot to lot of a biologic product, whereas evolution is a result of the intentional manufacturing process changes made by a manufacturer, which are continually monitored by regulatory agencies.
Batches of originator biologics administered today often differ from those of the same drugs dispensed in previous years, particularly for drugs introduced in the late 1990s and early 2000s.10 Due to drift and evolution, batches of originator drugs today are essentially "biosimilar" to older batches.10 Despite the effects of drift and evolution, these originator products have continued to be safe and effective.10
Regulatory Pathways for Approval Of Biosimilars
The Biologics Price Competition and Innovation Act (BPCI Act) of 2009 took effect in March 2010 as part of the Affordable Care Act. The act established an abbreviated pathway for the FDA to approve biosimilars.6 The FDA approach to approval of biosimilars is referred to as "totality of evidence."6,11 This approach takes multiple lines of evidence to determine biosimilarity by the reduction of "residual uncertainty."6Heavy emphasis is placed on preclinical analytical comparison of structure and function between the innovator and reference products; comparative clinical studies of pharmacokinetic parameters; and if an appropriate biomarker is available, a comparison of pharmacodynamic parameters. Additionally, assessment of both the formulation and stability of a biosimilar is required.6Furthermore, a minimum of 1 clinical study comparing the proposed biosimilar with its reference product in patients with a disease for which the reference product is approved is required to assess whether efficacy, safety and immunogenicity are comparable.6
The position of the FDA is that once a proposed biosimilar has satisfied all the requirements of this regulatory pathway, both physicians and patients should expect that clinical outcomes will parallel the experience of the reference product.6 Therefore, prescribers and patients alike should have confidence in the outcomes associated with use of biosimilars.
Concepts of Extrapolation of Indications, Product Switching, And Substitution/Interchangeability
The FDA's Scientific Considerations in Demonstrating Biosimilarity to a Reference Product guidance states that the agency may extrapolate biosimilarity to an indication that has not been formally investigated by the biosimilar maker but has been approved for the reference product.10,12 Exceptions to the FDA approving a biosimilar often are the result of remaining exclusivity for an indication with the reference product or if the indication has orphan drug status. It is common for a provider, in consultation with the patient, to change from 1 biologic product to another because of lack of efficacy or unmanageable side effects. Substitution is the FDA's preferred term that describes a change made by someone other than the prescriber, such as a pharmacist, and is regulated by state law.10 In hospitals, these product switches occur either on a case-by-case basis after consultation between the provider and pharmacist or in a blanket fashion after approval by the P&T committee and medical staff leadership. Nonmedical substitution refers to a change imposed on a medically stable patient that is unrelated to the efficacy of the drug or the drug's tolerability by that patient.10 Insurance companies and pharmacy benefit managers develop policies that determine which biologics are "preferred" or on their formulary, and thus covered by insurance. Switches based on the application of those policies are the most common form of nonmedical substitution.
The FDA defines interchangeability to mean "the biologic product may be substituted for the reference product without the intervention of the provider who prescribed the reference product."13 To date, the FDA has not granted interchangeability status to any approved biosimilar, but this may be a result of not having published final guidance for manufacturers until May 10, 2019. Going forward, the FDA has stated it will determine interchangeability on supporting information and data, including critical quality attributes, product-specific immunogenicity, and design and analysis of "switching studies."14 The switching studies focus on the clinical effect of switching between a reference product and its biosimilar; they do not replace the clinical studies or trials required to demonstrate biosimilarity, but rather supplement those data.14
The Concept of Immunogenicity
The FDA biosimilar approval pathway also calls for the manufacturer to ensure at least comparable immunogenicity, or possibly a more favorable immunogenicity profile, of the biosimilar and the corresponding reference product.10 To show comparability, the measurement of both binding and neutralizing antidrug antibodies is required. Antidrug antibodies have been detected in patients taking originator biologics and are associated with low trough drug concentrations, reduced efficacy, and increased infusion reactions.10 The expectation is that the biosimilar will have comparable levels of antidrug antibody production; however, it is acceptable if the biosimilar is less likely to result in antibody production.
Moving Beyond Education: Preparing for P&T
Once pharmacy leaders and clinical pharmacists have developed expertise on biosimilars and educated their peers, they are better prepared to guide a request for a biosimilar through their organization's P&T process. Because no drugs are currently designated by the FDA as interchangeable, the P&T committee will need to evaluate each biosimilar independently for inclusion on the formulary. The P&T committee has an inherent responsibility to ensure that medications are safe and effective, economically feasible, and will not adversely affect workflow and throughput.11 Because of the complexity of biologics, P&T committee deliberations are often challenging and time-consuming. They must include an understanding of data to support biosimilarity, evaluation of safety and efficacy, review of the potential impact of biosimilars on workflow and patient acceptance, and cost and reimbursement issues.11
At a minimum, experts and pharmacy leaders should be prepared to address the following questions before the P&T meeting:
Are we going to treat drugs approved as biosimilars differently from those approved as separate licensed biologics?14
What restrictions, if any, will we place on the biosimilar?11
Will the biosimilar be used only for approved indications, or will the organization extrapolate to the same indications as the reference product?11
Will the biosimilar completely replace the innovator product?11
Are we going to restrict the use of the biosimilar to new starts for treatment-naive patients, or will we have a full interchange program?5
Will we allow the biosimilar to be used for "off-label" indications?14
Will we have the ability to trace back adverse reactions to the actual product administered if we do not have biosimilars exclusively?14
Will we need to make changes in the electronic health record and the ordering system to accommodate the biosimilar?14
Accelerating Action
To date, the actual level of savings has trended behind estimates given at the time of the passage of the BPCI Act. Much of this lag is due to the steep learning curve for organizations and providers to understand the science of biosimilars and be able to evaluate new biosimilars for formulary inclusion. Further complicating the issue, innovator companies have filed patent-related lawsuits to block biosimilars from the market despite FDA approval. However, this does not mean health systems do not have real opportunities to control costs by adopting biosimilar products subject to careful review. As more biosimilars become available and organizations gain expertise in evaluating their use, organizations will be able to accelerate bending the cost curve.
The very sustainability of many health systems hinges on exploring every opportunity to control and manage costs in a thoughtful and prudent way that does not compromise patient outcomes and maintains patient safety, and biosimilars offer an outstanding opportunity to deliver on this call to action. Pharmacy leaders need to position themselves to be at the forefront of this adoption.
More News